Private Communications Corporation

Enhancing the
Mobile Experience
Private Communications Corporation is transforming the mobile experience by turning public WiFi connections into private VPNs and reducing data usage by up to 50%.
Living up to a secure and enhanced experience.
From our founding, Private Communications has always stood for enabling our partners to offer high quality, relevant, revenue-enhancing offerings. With our flagship product, Private WiFi, we protect users from hackers and identity thieves while they use public wifi. Our Remote WorkForce VPN is an easy-to-implement solution to protect corporate data when employees are working outside the office. Our Remote WorkForce ZTN is a an affordable Zero-Trust solution to meet the challenges of IT security for SMBs. Our DataCompress solution enables users to control costly data usage.
Our software is simple to use and puts users' needs first. Our patented technology automatically determines when a WiFi connection is unsecure and quickly connects to an encrypted VPN. Similarly, optimization is turned on when connection switches to mobile network.

Private WiFi
Encrypt public Internet connections to create secure personal VPNs.
On a public WiFi network, users' private information is an easy target. Anyone in range can "listen in" to all of the data users send and receive - as easily as tuning to the right station. And most users don't realize that antivirus and firewall software don't protect them. Private WiFi keeps them safe.
By encrypting the user's WiFi signal through a VPN server, Private WiFi protects users' identities and personal information as soon as an unsecure network is detected. Everything they do online is protected by bank-level security - so they can surf, share, shop and bank with confidence.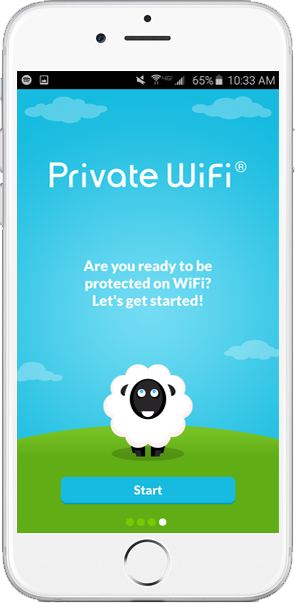 Benefits
Usernames, passwords, social media account details, and other confidential information can literally be stolen out of thin air. Private WiFi gives users an airtight defense.

Bank-Level Security
Private WiFi scrambles the device's WiFi signal using 256-bit SSL encryption, the same proven technology trusted by major companies, banks, and government agencies. Plus, we never sell our users' information to third-party companies, like "free" solutions.

Easy To Use
Revolutionary, patented technology detects unsecure networks and activates itself automatically, encrypting the users' connection. It works anywhere, even on the wired networks in many hotel rooms.

Flexible and Adaptable
Private WiFi has been built for easy integration with our partners' existing product sets and business strategies. And, we work with partners every step of the way to ensure successful deployment of the software.
---
Ensure Privacy on Any Device
Compatible with

Laptops and Desktops
- PCs with Windows 8.x or Windows 10 operating systems.
- Intel-based Macs with OSX 10.10 through the latest.
Tablets and Smartphones
- iPhones, iPads and iPods running iOS10 or higher.
- Android handsets and tablets running Android 6 and above.
Remote WorkForce VPN
Businesses are facing multiple emerging threats and their attack surfaces are increasing as more employees access their corporate network and cloud resources from remote locations. Businesses of all sizes need a secure easy-to-use service to survive the "new normal," one that protects their business and employees from cyber attacks, data loss and other online threats.
Secure Access for Remote Workers
Remote WorkForce VPN is a trusted, turn-key VPN solution for SMBs. Our patented technology is easy-to-use, affordable and delivers military grade encryption via a modern cloud-based security service. All traffic is end-to-end encypted, whether accessing legacy LANs or IT resources in the cloud, making this the ideal solution for employees who work remotely and hybrid workers. Server-side authentication manages access and keeps unauthorized malicious traffic off the network. PCC's network of dedicated private servers delivers low-latency global coverage and can quickly scale to meet the needs of your business. Our solution encrypts all internet traffic and delivers a critical level of security for employees doing company business over public wifi as well as on home wifi that may not be properly configured.
Benefits

Powerful, pervasive encryption
256-bit encryption protects sensitive data traffic and secures vulnerable endpoints at home and on public wifi networks.

Enables seamless accessibility to corporate assets
Employees can easily get to necessary apps on premises and in the cloud.

Manage website access
Admins can limit access to only certain websites or prohibit access to non-work related sites.

Gain visibility into worker productivity
Companies have the option of monitoring remote employee's working hours and on-line activities.

Intuitive and easy-to-use
Easy to implement and easy to use, employees and employers can enjoy reliable, hassle-free protection. Secure every member of your team on every device they use.

Scales effortlessly
Whether your SMB has 20 employees or 2,000, the solution is the same. With our simple control panel, it's easy to manage every user account and our seamless, centralized billing system allows you to add users in real time.
---
Zero Trust Cyber Security for SMBs
The Zero Trust Concept
The concept behind Zero Trust is simple: Only those specifically authorized to use an IT resource are allowed to even see it. It is like having a firewall around each individual resource, instead of on the periphery of the network.
This simple idea is revolutionary. It greatly simplifies the approach to IT security and simultaneously makes it much more secure.
The idea behind Zero Trust has been developing for about 20 years and is now widely accepted. The major IT consulting firms (Forrester, Gartner) have endorsed it and the approach now being adopted by most major companies. There is even a Presidential Directive that all government agencies must move toward Zero Trust.
Remote WorkForce ZTN
There are a number of implementations of Zero Trust (ZScaler, Perimeter 81 and others) which are designed for large scale organizations.
Remote WorkForce ZTN is the first and only implementation specifically designed for SMBs. It is affordable, can be adopted quickly and is easy to administer and use.
Our Zero Trust product is built on the strong foundation of Remote WorkForce VPN. Both are designed for today's work-from-anywhere reality and widely distributed networks (LANs, AWS, Azure, GCP).
Benefits

True Zero-Trust – only specifically authorized users are allowed to access IT resources (web site, app, etc.). Others cannot even see that they exist.

Enhanced security – end-to-end, 256 bit encryption and multi-factor authentication.

Simplifies IT security – no need for legacy VPNs or to maintain open ports on the firewall.

Easy to implement – start with Remote WorkForce VPN then easily transition to full ZTN security.

Protects all devices
Secure every member of your team on every device they use. Available for PC, Mac, Android, and iOS devices.

Easy to administer…easy to use. Much simpler than traditional legacy VPNs. Users are shown a list of resources that are allowed to use and a single click gives them immediate access.
---

DataCompress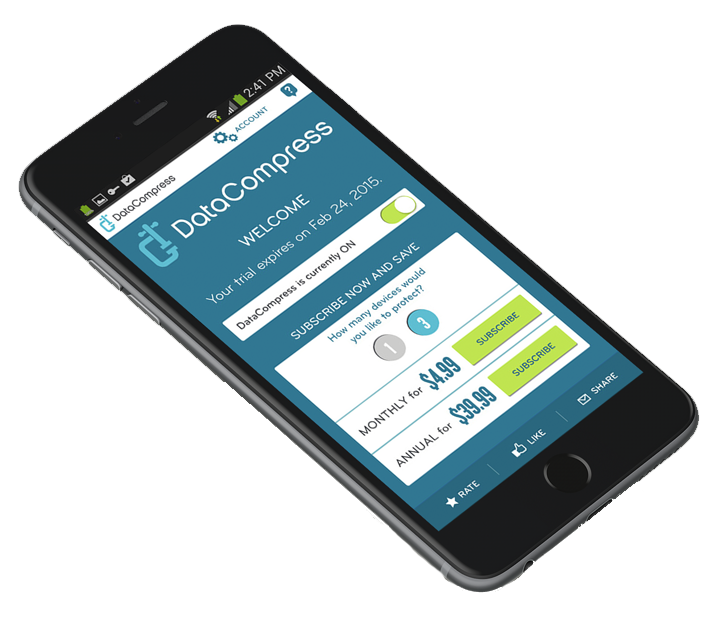 Video comprises almost 80% of mobile traffic and it uses up an enormous amount of data, which can result in overage fees, higher priced plans and reduced network speeds. DataCompress optimizes video for the vast majority of sites - both in the browser and in apps, both encrypted and unencrypted. Our technology can reduce the data consumed by as much as 50% with no change in video quality. With less data consumed, users can get more out of their data plan. And since DataCompress acts instantly, without lag during compression, users benefit from a higher-performing mobile experience.
DataCompress is the only data-savings product created by a privacy company. So, not only do users benefit from faster downloads and reduced data usage, their information is absolutely secure - since we'll never share their personal information or Internet activity.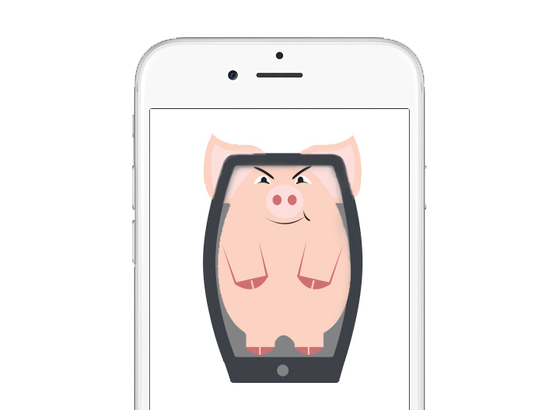 How DataCompress Works
We optimize for most of the major web sites in US (including YouTube, Facebook, Instagram, Twitter, Twitch, Yahoo, Bing), as well as most of the top 1000 sites in US and an estimated 760,000 sites world-wide.
In testing, DataCompress reduced data usage by:

Some users saw reductions of up to 70%, while others saw less. Savings vary based on the sites users visit - because different websites are built to compress at different rates.
Try It Free
Get it on: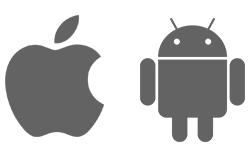 ---
Contact Us
Together we can enable a secure, optimized mobile experience for all of your users - and help you realize new revenue. Let's get the conversation started. Let us know what type of partnership you are interested in - or if you're looking for a consultation on what's best for your company.
Private Communications Corporation
39 Holiday Point Road
Sherman, CT 06784
(212) 390-1100